Products: Processors, Fans, Memory, Hard Drives, Motherboards, Optical Drives, Graphic Card, Audio, Multimedia, Modems, Network, Casings, Monitors, Keyboard, Mouse, USB, Peripherals, Printers – CPU, Motherboard, Heat Sink/Fans, Hard Drive, Memory, Optical Drive, Graphic Card, Sound Card, Speakers, Modem, Network, Computer Cases, Floppy Drive, Keyboard, Mouse, Monitor, Printers/Scanners, Power Adapters, Data Storage, Software and more…
Prices shown below are inclusive of VAT. Prices are subject to change without notice. Payments are accepted via Bank-to-Bank Transfer, Paypal (www.paypal.com), Cheque, Traveler's Check, Postal Order, Western Union Money Transfer (www.westernunion.com), or Cash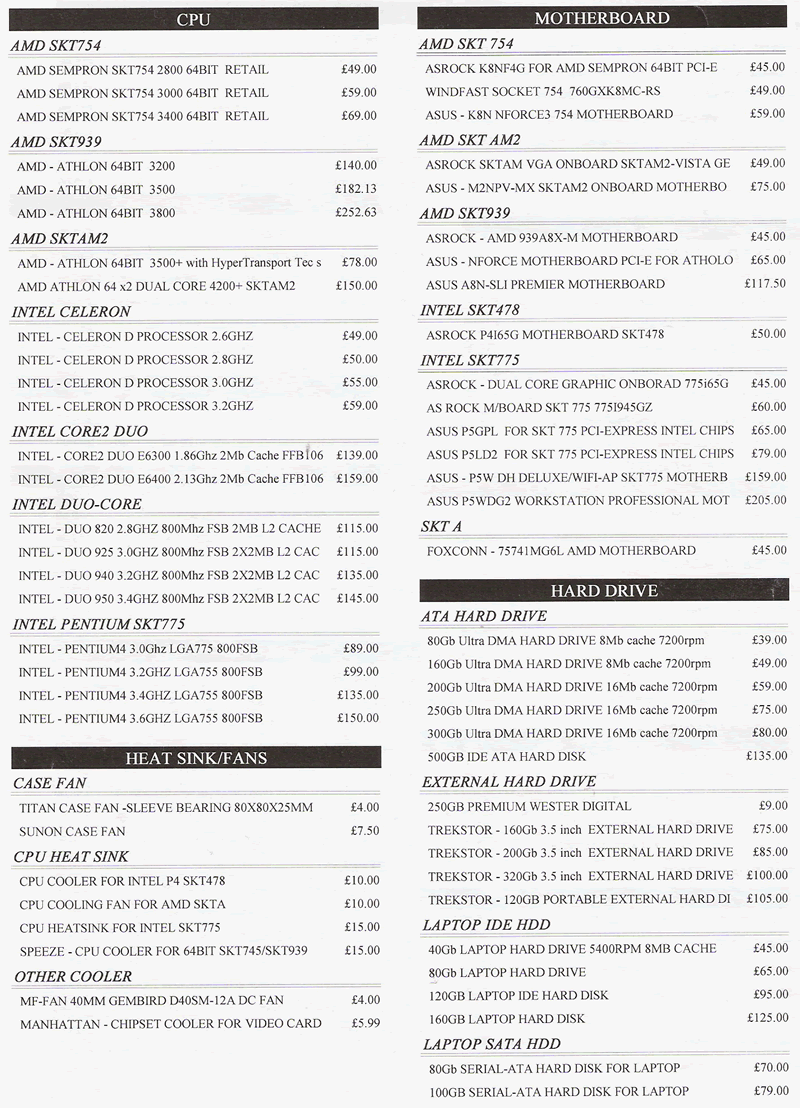 Send Postal Enquiries to:
Computhouse.com
Attn: Danny
Suite 220, 22 Notting Hill Gate
London W11 3JE, United Kingdom.
Mobile: +44 (0)77 6568 8875
Phone: +44 (0)20 7871 7696
Email: sales@computhouse.com
Price and Payment
The Price that Customers have to pay will be shown on the Computhouse order repair sheet and invoices or as agreed.
Delivery
The delivery date will be same date customer paid fully for the product or service, except the date customer specified for delivery.
The place of delivery is as stated in the invoice as given to us by the customer
Most delivery is chargeable. Free delivery only applies to customer who purchases four or more than four machines and the place of delivery is within 3 mile radius from the Notting Hill Gate, London, United Kingdom.
Products Keywords: Computer Parts, Laptop Parts, Notebook Parts, Laptop Computer Spare Parts, Cheapest PC Parts- cpu: amd skt754, amd skt939, amd sktam2, intel celeron, intel core2 duo, intel duo-core, intel pentium skt775 heat sink/fans: case fan, cpu heat sink, other cooler motherboard: amd skt754, amd skt am2, amd skt939, intel skt478intel skt775, skt a hard drive: ata hard drive, external hard drive, laptop ide hdd, laptop sata hdd, sata hard drive memory: computer ddr memory, computer ddr2 memory, computer sd memory, laptop ddr memory, laptop ddr2 memory, laptop sd memory, ramus optical drive: cd/cdrw rom, dvd rom, dvd/dvdrw rom, external dvdrw, laptop cdrw/dvd combo, laptop dvd rw graphic card: agp graphic, pci express sound card: pci sound card, normal pci sound card, creative labs-sound card, creative sound blaster audigy se pci card, creative sound blaster external audigy speakers: 2-way multimedia speakers, ozaki speakers, hercules speakers, creative speakers, hercules morden speakers network: rounter, switch, wireless adapter, 3com wirless card, 54mbps wireless usb2.0, xconx wirless card, adon wireless card, asus wireless card, d-link wireless card, netgear wireless card, usb wireless dongles, pcmcia wireless card computer cases: silver micro case, antler case, atx case, black mini tower atx case, midi silver atx case, atec super advance case floppy drive: 1.44 black, cream, silver floppy drives, sony – usb2.0 external 1.44 floppy drive keyboard: ps/2 standard keyboard, usb slim compact keyboard, mini usb keyboard, microsoft keyboard mouse: optical mouse – ps/2 mouse, usb mouse, genius netscroll mouse, arsenal aqua optical mouse, manchester united aqua mouse, usb/ps2 wireless mouse, liverpool aqua mouse, scroll mouse, microsoft usb/ps2 mouse oem monitor: flat screen, tft screen, lcd/plasma/tv, hp flat screen, acer lcd/tv, toshiba lcd tv, philips lcd tv, samsung plasma tv printers/scanners: epson printer, samsung printer, brother printer, hp printer, multi-function printer power adapters: psu, ezcool data storage: cd/dvd disks, philips disc, arita disc, tdk disc, tradxdata disk, write tek disc, mirror dvd dual disc, floppy disks, sd memory, prt memory card, usb flash pen software: application – microsoft office, microsoft front page, operating system – microsoft windows vista home base, home premium, xp, me, 2000, 98, 95, oem, server, security – norton anti-virus, norton internet security, symantec antivirus sbe, services – 2 years warranty for pc £150, 2 years warranty for laptops £175
We ship to the following countries: Laptop & Computer Parts .ac – Ascension Island Laptop & Computer Parts .ad – Andorra Laptop & Computer Parts .ae – United Arab Emirates Laptop & Computer Parts .af – Afghanistan Laptop & Computer Parts .ag – Antigua and Barbuda Laptop & Computer Parts .ai – Anguilla Laptop & Computer Parts .al – Albania Laptop & Computer Parts .am – Armenia Laptop & Computer Parts .an – Netherlands Antilles Laptop & Computer Parts .ao – Angola Laptop & Computer Parts .aq – Antarctica Laptop & Computer Parts .ar – Argentina Laptop & Computer Parts .as – American Samoa Laptop & Computer Parts .at – Austria Laptop & Computer Parts .au – Australia Laptop & Computer Parts .aw – Aruba Laptop & Computer Parts .ax – Aland Islands Laptop & Computer Parts .az – Azerbaijan Laptop & Computer Parts .ba – Bosnia and Herzegovina Laptop & Computer Parts .bb – Barbados Laptop & Computer Parts .bd – Bangladesh Laptop & Computer Parts .be – Belgium Laptop & Computer Parts .bf – Burkina Faso Laptop & Computer Parts .bg – Bulgaria Laptop & Computer Parts .bh – Bahrain Laptop & Computer Parts .bi – Burundi Laptop & Computer Parts .bj – Benin Laptop & Computer Parts .bm – Bermuda Laptop & Computer Parts .bn – Brunei Darussalam Laptop & Computer Parts .bo – Bolivia Laptop & Computer Parts .br – Brazil Laptop & Computer Parts .bs – Bahamas Laptop & Computer Parts .bt – Bhutan Laptop & Computer Parts .bv – Bouvet Island Laptop & Computer Parts .bw – Botswana Laptop & Computer Parts .by – Belarus Laptop & Computer Parts .bz – Belize Laptop & Computer Parts .ca – Canada Laptop & Computer Parts .cc – Cocos (Keeling) Islands Laptop & Computer Parts .cd – Congo, The Democratic Republic of the Laptop & Computer Parts .cf – Central African Republic Laptop & Computer Parts .cg – Congo, Republic of Laptop & Computer Parts .ch – Switzerland Laptop & Computer Parts .ci – Cote d'Ivoire Laptop & Computer Parts .ck – Cook Islands Laptop & Computer Parts .cl – Chile Laptop & Computer Parts .cm – Cameroon Laptop & Computer Parts .cn – China Laptop & Computer Parts .co – Colombia Laptop & Computer Parts .cr – Costa Rica Laptop & Computer Parts .cu – Cuba Laptop & Computer Parts .cv – Cape Verde Laptop & Computer Parts .cx – Christmas Island Laptop & Computer Parts .cy – Cyprus Laptop & Computer Parts .cz – Czech Republic Laptop & Computer Parts .de – Germany Laptop & Computer Parts .dj – Djibouti Laptop & Computer Parts .dk – Denmark Laptop & Computer Parts .dm – Dominica Laptop & Computer Parts .do – Dominican Republic Laptop & Computer Parts .dz – Algeria Laptop & Computer Parts .ec – Ecuador Laptop & Computer Parts .ee – Estonia Laptop & Computer Parts .eg – Egypt Laptop & Computer Parts .eh – Western Sahara Laptop & Computer Parts .er – Eritrea Laptop & Computer Parts .es – Spain Laptop & Computer Parts .et – Ethiopia Laptop & Computer Parts .eu – European Union Laptop & Computer Parts .fi – Finland Laptop & Computer Parts .fj – Fiji Laptop & Computer Parts .fk – Falkland Islands (Malvinas) Laptop & Computer Parts .fm – Micronesia, Federated States of Laptop & Computer Parts .fo – Faroe Islands Laptop & Computer Parts .fr – France Laptop & Computer Parts .ga – Gabon Laptop & Computer Parts .gb – United Kingdom Laptop & Computer Parts .gd – Grenada Laptop & Computer Parts .ge – Georgia Laptop & Computer Parts .gf – French Guiana Laptop & Computer Parts .gg – Guernsey Laptop & Computer Parts .gh – Ghana Laptop & Computer Parts .gi – Gibraltar Laptop & Computer Parts .gl – Greenland Laptop & Computer Parts .gm – Gambia Laptop & Computer Parts .gn – Guinea Laptop & Computer Parts .gp – Guadeloupe Laptop & Computer Parts .gq – Equatorial Guinea Laptop & Computer Parts .gr – Greece Laptop & Computer Parts .gs – South Georgia and the South Sandwich Islands Laptop & Computer Parts .gt – Guatemala Laptop & Computer Parts .gu – Guam Laptop & Computer Parts .gw – Guinea-Bissau Laptop & Computer Parts .gy – Guyana Laptop & Computer Parts .hk – Hong Kong Laptop & Computer Parts .hm – Heard and McDonald Islands Laptop & Computer Parts .hn – Honduras Laptop & Computer Parts .hr – Croatia/Hrvatska Laptop & Computer Parts .ht – Haiti Laptop & Computer Parts .hu – Hungary Laptop & Computer Parts .id – Indonesia Laptop & Computer Parts .ie – Ireland Laptop & Computer Parts .il – Israel Laptop & Computer Parts .im – Isle of Man Laptop & Computer Parts .in – India Laptop & Computer Parts .io – British Indian Ocean Territory Laptop & Computer Parts .iq – Iraq Laptop & Computer Parts .ir – Iran, Islamic Republic of Laptop & Computer Parts .is – Iceland Laptop & Computer Parts .it – Italy Laptop & Computer Parts .je – Jersey Laptop & Computer Parts .jm – Jamaica Laptop & Computer Parts .jo – Jordan Laptop & Computer Parts .jp – Japan Laptop & Computer Parts .ke – Kenya Laptop & Computer Parts .kg – Kyrgyzstan Laptop & Computer Parts .kh – Cambodia Laptop & Computer Parts .ki – Kiribati Laptop & Computer Parts .km – Comoros Laptop & Computer Parts .kn – Saint Kitts and Nevis Laptop & Computer Parts .kp – Korea, Democratic People's Republic Laptop & Computer Parts .kr – Korea, Republic of Laptop & Computer Parts .kw – Kuwait Laptop & Computer Parts .ky – Cayman Islands Laptop & Computer Parts .kz – Kazakhstan Laptop & Computer Parts .la – Lao People's Democratic Republic Laptop & Computer Parts .lb – Lebanon Laptop & Computer Parts .lc – Saint Lucia Laptop & Computer Parts .li – Liechtenstein Laptop & Computer Parts .lk – Sri Lanka Laptop & Computer Parts .lr – Liberia Laptop & Computer Parts .ls – Lesotho Laptop & Computer Parts .lt – Lithuania Laptop & Computer Parts .lu – Luxembourg Laptop & Computer Parts .lv – Latvia Laptop & Computer Parts .ly – Libyan Arab Jamahiriya Laptop & Computer Parts .ma – Morocco Laptop & Computer Parts .mc – Monaco Laptop & Computer Parts .md – Moldova, Republic of Laptop & Computer Parts .me – Montenegro Laptop & Computer Parts .mg – Madagascar Laptop & Computer Parts .mh – Marshall Islands Laptop & Computer Parts .mk – Macedonia, The Former Yugoslav Republic of Laptop & Computer Parts .ml – Mali Laptop & Computer Parts .mm – Myanmar Laptop & Computer Parts .mn – Mongolia Laptop & Computer Parts .mo – Macao Laptop & Computer Parts .mp – Northern Mariana Islands Laptop & Computer Parts .mq – Martinique Laptop & Computer Parts .mr – Mauritania Laptop & Computer Parts .ms – Montserrat Laptop & Computer Parts .mt – Malta Laptop & Computer Parts .mu – Mauritius Laptop & Computer Parts .mv – Maldives Laptop & Computer Parts .mw – Malawi Laptop & Computer Parts .mx – Mexico Laptop & Computer Parts .my – Malaysia Laptop & Computer Parts .mz – Mozambique Laptop & Computer Parts .na – Namibia Laptop & Computer Parts .nc – New Caledonia Laptop & Computer Parts .ne – Niger Laptop & Computer Parts .nf – Norfolk Island Laptop & Computer Parts .ng – Nigeria Laptop & Computer Parts .ni – Nicaragua Laptop & Computer Parts .nl – Netherlands Laptop & Computer Parts .no – Norway Laptop & Computer Parts .np – Nepal Laptop & Computer Parts .nr – Nauru Laptop & Computer Parts .nu – Niue Laptop & Computer Parts .nz – New Zealand Laptop & Computer Parts .om – Oman Laptop & Computer Parts .pa – Panama Laptop & Computer Parts .pe – Peru Laptop & Computer Parts .pf – French Polynesia Laptop & Computer Parts .pg – Papua New Guinea Laptop & Computer Parts .ph – Philippines Laptop & Computer Parts .pk – Pakistan Laptop & Computer Parts .pl – Poland Laptop & Computer Parts .pm – Saint Pierre and Miquelon Laptop & Computer Parts .pn – Pitcairn Island Laptop & Computer Parts .pr – Puerto Rico Laptop & Computer Parts .ps – Palestinian Territory, Occupied Laptop & Computer Parts .pt – Portugal Laptop & Computer Parts .pw – Palau Laptop & Computer Parts .py – Paraguay Laptop & Computer Parts .qa – Qatar Laptop & Computer Parts .re – Reunion Island Laptop & Computer Parts .ro – Romania Laptop & Computer Parts .rs – Serbia Laptop & Computer Parts .ru – Russian Federation Laptop & Computer Parts .rw – Rwanda Laptop & Computer Parts .sa – Saudi Arabia Laptop & Computer Parts .sb – Solomon Islands Laptop & Computer Parts .sc – Seychelles Laptop & Computer Parts .sd – Sudan Laptop & Computer Parts .se – Sweden Laptop & Computer Parts .sg – Singapore Laptop & Computer Parts .sh – Saint Helena Laptop & Computer Parts .si – Slovenia Laptop & Computer Parts .sj – Svalbard and Jan Mayen Islands Laptop & Computer Parts .sk – Slovak Republic Laptop & Computer Parts .sl – Sierra Leone Laptop & Computer Parts .sm – San Marino Laptop & Computer Parts .sn – Senegal Laptop & Computer Parts .so – Somalia Laptop & Computer Parts .sr – Suriname Laptop & Computer Parts .st – Sao Tome and Principe Laptop & Computer Parts .su – Soviet Union (being phased out) Laptop & Computer Parts .sv – El Salvador Laptop & Computer Parts .sy – Syrian Arab Republic Laptop & Computer Parts .sz – Swaziland Laptop & Computer Parts .tc – Turks and Caicos Islands Laptop & Computer Parts .td – Chad Laptop & Computer Parts .tf – French Southern Territories Laptop & Computer Parts .tg – Togo Laptop & Computer Parts .th – Thailand Laptop & Computer Parts .tj – Tajikistan Laptop & Computer Parts .tk – Tokelau Laptop & Computer Parts .tl – Timor-Leste Laptop & Computer Parts .tm – Turkmenistan Laptop & Computer Parts .tn – Tunisia Laptop & Computer Parts .to – Tonga Laptop & Computer Parts .tp – East Timor Laptop & Computer Parts .tr – Turkey Laptop & Computer Parts .tt – Trinidad and Tobago Laptop & Computer Parts .tv – Tuvalu Laptop & Computer Parts .tw – Taiwan Laptop & Computer Parts .tz – Tanzania Laptop & Computer Parts .ua – Ukraine Laptop & Computer Parts .ug – Uganda Laptop & Computer Parts .uk – United Kingdom Laptop & Computer Parts .um – United States Minor Outlying Islands Laptop & Computer Parts .us – United States Laptop & Computer Parts .uy – Uruguay Laptop & Computer Parts .uz – Uzbekistan Laptop & Computer Parts .va – Holy See (Vatican City State) Laptop & Computer Parts .vc – Saint Vincent and the Grenadines Laptop & Computer Parts .ve – Venezuela Laptop & Computer Parts .vg – Virgin Islands, British Laptop & Computer Parts .vi – Virgin Islands, U.S. Laptop & Computer Parts .vn – Vietnam Laptop & Computer Parts .vu – Vanuatu Laptop & Computer Parts .wf – Wallis and Futuna Islands Laptop & Computer Parts .ws – Samoa Laptop & Computer Parts .ye – Yemen Laptop & Computer Parts .yt – Mayotte Laptop & Computer Parts .yu – Yugoslavia Laptop & Computer Parts .za – South Africa Laptop & Computer Parts .zm – Zambia Laptop & Computer Parts .zw – Zimbabwe